Tunnels • Misc. Tunnel Equip. • Central Vacuum
Don't see what you're looking for? Click the bell on the right to signup for new product alerts.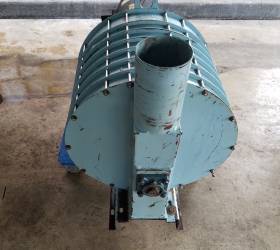 HANNA - HP15117573 - 2008
Posted: 02/06/2018
$2,400
Product # 1017
Complete vacuum system consist of Sonny 15 HP motor less than 5 years old, Hanna Turbine with filter separator tank good as an add on to vacuum area, you will get everything you see attached. I do have the motor cover but it has broken screws.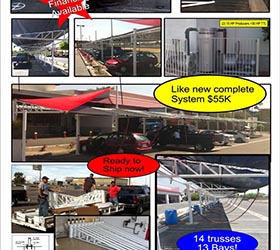 FMQ - Complete Vacuum System w/14 Trusses & Conopy
Posted: 02/05/2017
$43,000
Product # ICWV
Mfg. 2013
Powder coated in your choice of color!!!
(14) White powder coated trusses
(14) 5" x 5" steel columns
(14) 3" pvc elbows
(14) 2" flipper connectors
(14) 2" to 1-1/2" metal reducers
(14) VAC hoses
(14) cuffs
(14) claw holders
(14) vac tool holder
(13) oasis black canopy covers
(1000') nylon canopy rope
(13) anti sway braces
(6) Sail post
Shipping and installation are available. Installation is apx $5000+ travel and we would install
column post, trusses, awning canopy, vac hoses and claws.
truss footing (pilasters) rebar cage and j-bolts have to be installed
Electric 208-220/50amps
Anti-Sway bars offer additional support.
Our anti sway bars measure apx 128" and can be modified to 12' of 14' depending how much space your looking to provide between parking lot spaces.
SIGN UP FOR ALERTS